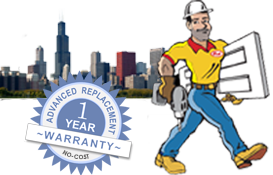 I was very impressed with the knowledge & expertise of the product & the installation. The worker was helpful, friendly & knowledgeable.
John McKormick, Plainfield, IL
It was one of the most enjoyable experiences we've had with a contractor. We could not be happier with the new trim. Thank you!
Chuck and Cindy Cebrynski, Aurora, IL
Great experience – everyone was very nice and enthusiastic!
Laura Marshall, Naperville, IL
I love Bob's Doors!
Kim, Bolingbrook, IL
Wife is happy!
Mike Thomas, Wheaton, IL
The men who took the doors down, installed the casing, & put the doors back up worked excellently as a team. They were efficient, did a super job & cleaned up after themselves. They were also friendly & good representatives of your company. I love my new doors!
Hilary Kane, Wilmette, IL
I rarely go out of my way to send thank you emails but your crew was so polite, efficient and prompt that I had to inform you. Great job! I hope to have additional work for you soon. Thank you.
Dan Cleary, Naperville, IL
I have never had such good service. Thank you so much. The doors, hardware, etc. are wonderful.
Emily Soprano, St. Charles, IL
I would recommend this company to all of my friends & family!
Ben Schulte, Glenview, IL
All the people we came in contact with were polite, helpful and willing to answer all of our questions.
Ryan Warner, Hinsdale, IL